BTU is Going to Sacramento!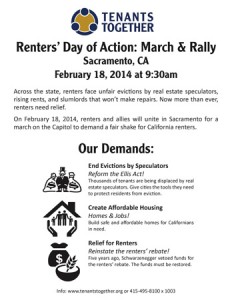 Berkeley Tenants Union members will join with tenants from around the state in the first tenant March and Rally in Sacramento in many years.
On Tuesday February 18, Tenants Together is leading member organizations like BTU to the capital. BTU members and friends are invited to hop on a bus in the morning and return by about 1 PM to the East Bay. If you live in Berkeley, please email us for more information. Sign up directly on the Tenants Together website if you are not a Berkeley tenant.
With evictions in California's larger cities creating panic among long-term renters, it is time for solidarity. State cuts to affordable housing threaten to have long-term impacts unless restored, and elimination of the renters' rebate in state income taxes has left low-income senior and disabled tenants with less food on the table. These are the issues we will march to support on the Renters' Day of Action.
Signing an online petition is not enough. Even writing to your state representatives is not enough. It's time to take to the streets!
◘ Restore the Renter's Rebate For Seniors and Disabled
In 2008 the Governor cut the Senior Citizens Renters Tax Assistance Program from the California budget. The program allowed disabled and senior tenants making less than $44,096 a tax rebate of about $300. Fixed income renters relied on this rebate.
http://www.tenantstogether.org/section.php?id=136
◘ Support the Homes and Jobs Act
State Bill 391 puts a fee on recording of real estate transactions – except home sales – which would generate $500 million a year to fund construction of housing for working people. California could use this money to leverage another $2.78 billion in federal assistance and bank loans to boost construction and create 29,000 jobs.
Homes and Jobs PDF
◘ Reform the Ellis Act
Speculators are misusing the state law to get around local tenant protections. In San Francisco, over 3,700 families have lost their homes through this type of eviction. This reform asks that local governments have more control over how Ellis evictions are carried out.
http://www.antievictionmappingproject.net/ellis.html
If you have not, please sign the ELLIS REFORM PETITION: